Hi Everyone,
In a previous post, I described how to limit check print remittance lines so the check print would not span multiple pages. This fix works great when you only use one language; however, ADempiere and iDempiere's multi-language breaks the solution.
The purpose of this post offer a better solution. This enhancement involves modifying code. Don't be scared if you have not touched the code yet. Consider using the ADempiere AWS Virtual Appliance AMI to perform the below modifications if you are new to ADempiere or iDempiere modifications. You will be modifying the DataEngine.java file.
First, add a new field named limitCount to the Report View window (see video for customizing windows):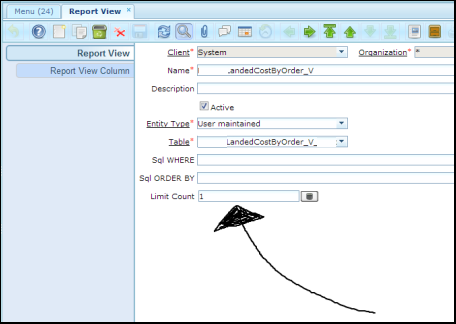 First you create the limitCount member variable in DataEngine.java: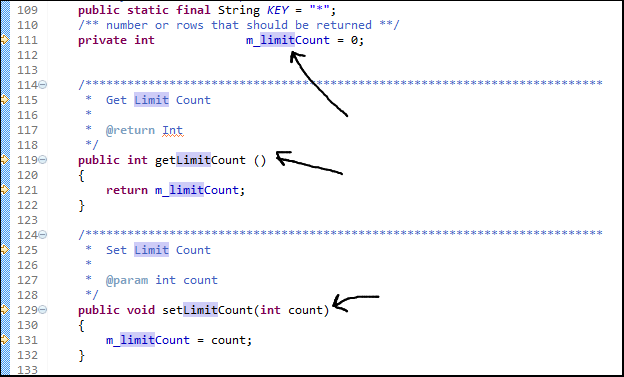 Next, you update the Report View query to return your newly created limitCount field. See the highlighted text for additions(DataEngine.java):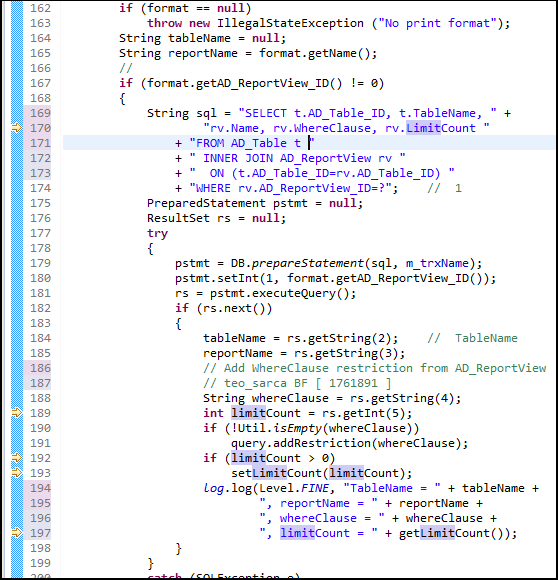 Now, add the Fetch First clause at the end of the query that returns the results. Note that I did not use the 'Limit' clause because the ConvertMap_PostgreSQL class puts quotes around the limit keyword and breaks the query. (DataEngine.java)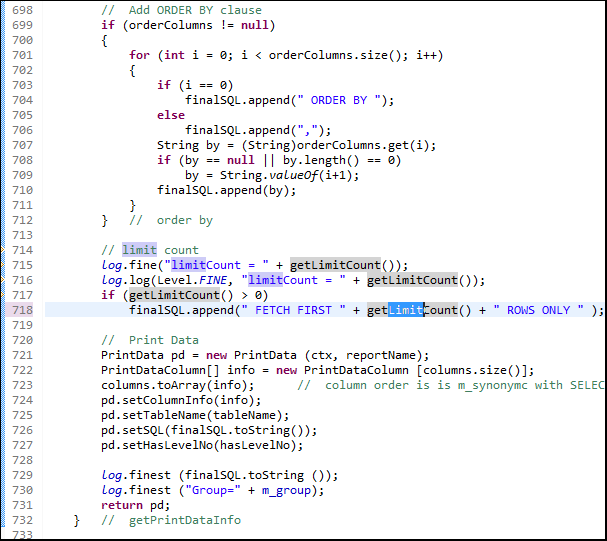 I hope this helps!!! Let me know if you have questions, comments or concerns about the proposed fix.
Please note that ADempiere, iDempiere and Openbravo are forks or copies from Compiere. Therefore, they have similar abilities mentioned above. The biggest difference is that ADempiere and iDempiere are pure open source. There are no features held behind a commercial or paid license.
About Chuck Boecking: I am an ERP educator. I believe that open source ERP have achieved mainstream capabilities, and as a result, more companies can create greater efficiency across their organization. I started using the iDempiere code base in 2003. Back then, it was called Compiere. In 2006, I started my first multi-million dollar installation. Since then, ADempiere has helped me create great success with distribution and manufacturing companies all over the world. My vision of success is to find companies that can best use open source ERP to help them achieve a single, global instance that drives a discontinuous increase in profitability. I believe that organizations win when they own their technology.
If you have questions, comments or concerns, let me know. I definitely want your feedback.
You can contact me by phone using 512.850.6068.
My email is chuck@chuboe.com.
You can complete the form on this page.
Thank you for taking the time. I look forward to speaking with you.
Regards,
Chuck Boecking
http://www.linkedin.com/pub/chuck-boecking/10/970/17b